The Loni Ding Archives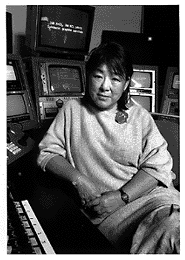 Image of Loni Ding from CET Films

The Ethnic Studies Library and the Asian American Research Center are excited to announce the recent donation of the Loni Ding and Center for Educational Telecommunications Collection. The collection will be made available for public use through preservation and digitization efforts and will have a home in the Ethnic Studies Library.
The collection contains the comprehensive works of Loni Ding as well as her extensive research files over her three-decade career. Ding was a renowned filmmaker, activist, scholar, and educator, and she was considered by many to be the "godmother of ethnic filmmaking." Over the span of her career, she produced over 250 broadcast programs which earned her international awards and recognition. The archive documents this scholar-activist's lifetime of work to increase the representation and opportunities for filmmakers of color and to change the face of public history.
Born in San Francisco Chinatown, Ding was a lifelong advocate and activist working to bring the voices of communities of color to mainstream media. Her documentaries Ancestors in the Americas (1996) and Nisei Soldier (1984) were broadcast nationally on PBS and brought Asian American history into the homes of Americans across the country. In 1980, she was one of the founders of the National Asian American Telecommunications Association (NAATA), along with other Bay Area artists and activists, whose mission was to counteract racist stereotypes and images of Asian Americans in mainstream media. NAATA would grow into CAAM, the Center for Asian American Media, which now organizes the nation's largest Asian American film festival. She was also the founder and executive director of the Center for Educational Telecommunications (CET Films), a non-profit organization dedicated to the production and distribution of educational films with special attention to Asian American history.
The Ethnic Studies Library is the home of the Asian American Studies Collection, which along with it's circulating book, reference, special collections, journal, newspaper and microfilm collections, includes over 100 unique Asian American archival collections including the Him Mark Lai archives, the Kem Lee Photograph archive, and more. As the library for the Department of Ethnic Studies, the ESL has collected materials documenting the history of Ethnic Studies and Bay Area social movements since its founding roots in the 1969 Third World Liberation Front student strike which fought for the creation of Ethnic Studies.
With generous funding from the Asian American Research Center, the Ethnic Studies Library will be processing this collection for public use with a goal of processing the collection by 2022.
Watch a Tribute to Loni Ding created by the Center for Asian American Media.
More information on the collection and a fuller biography of Loni Ding coming soon.