Summer Hours (May 15-August 22)
Saturday: Closed

Closed: May 29, June 8 and July 4
30 Stephens Hall #2360
Berkeley, CA 94720-2360
Phone: (510) 643-1234
Fax: (510) 643-8433
esl [at] library [dot] berkeley [dot] edu

JOIN US FOR
THE ETHNIC STUDIES LIBRARY 20TH ANNIVERSARY SUMMER BBQ!
See below for details and RSVP HERE.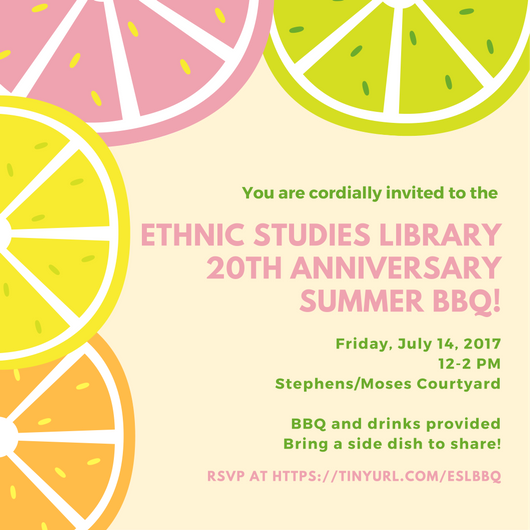 Event Accessibility Information:
The Ethnic Studies Library is committed to being accessible to persons with different abilities. The ESL has an ADA accessible front entrance and access to two ADA accessible restrooms. There are general research seats available. Contact esl [at] library [dot] berkeley [dot] edu with any questions or for more information.
Accessibility Information / Information about Disability Resources at UC Berkeley Libraries

UNIVERSITY OF CALIFORNIA, BERKELEY
DEPARTMENT OF ETHNIC STUDIES