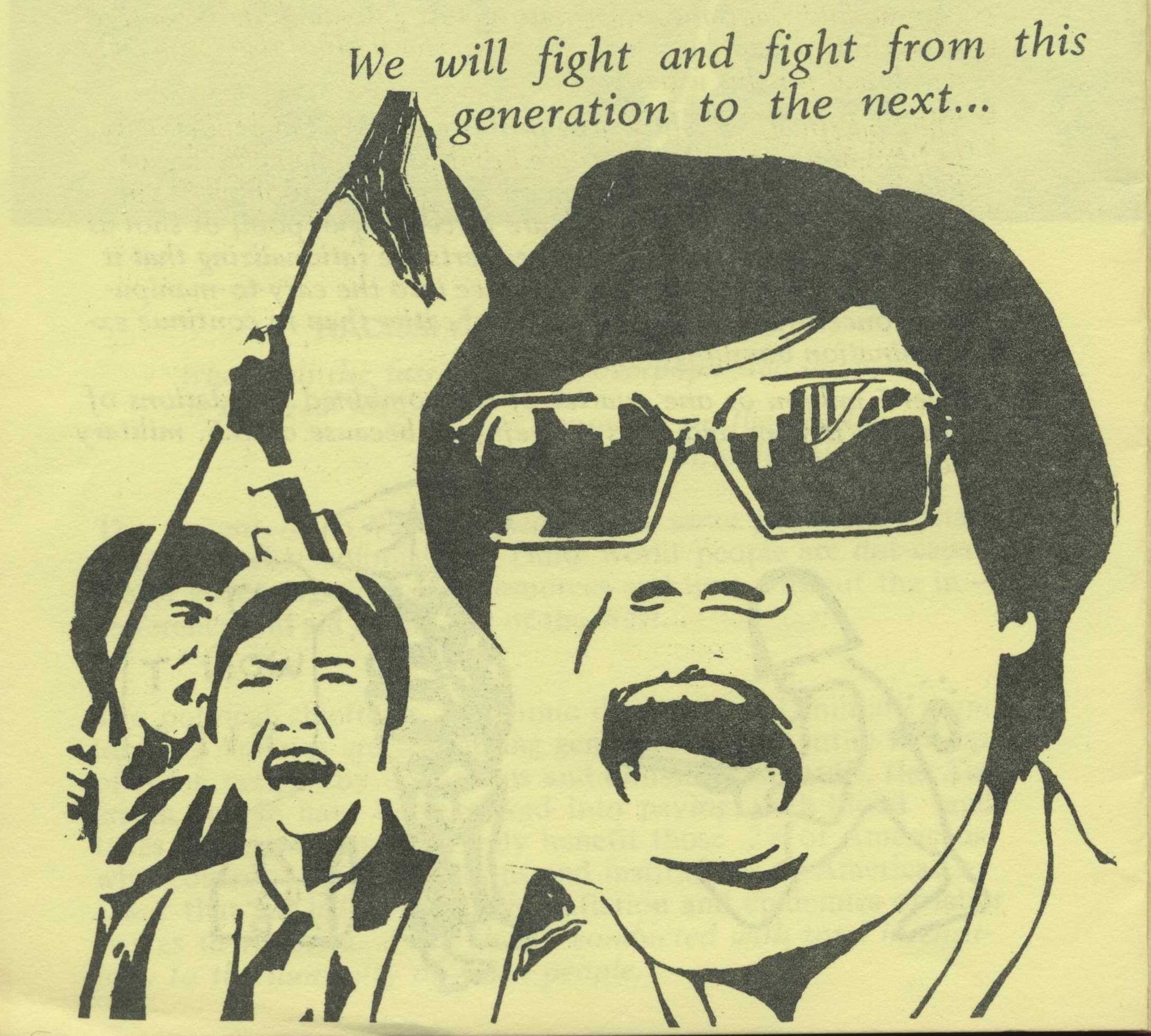 Image from zine "Asians Unite!" ca. 1970, Third World Strike at University of California, Berkeley collection, 1968-1972, CES ARC 2015/1.
The mission of the Asian American Studies Collection (AASC) is to preserve and make accessible interdisciplinary knowledge and history of Asian American communities and the Asian diaspora. The mission is to support the curriculum program of the undergraduate and graduate students, the research of the faculty in the Ethnic Studies Department, and to provide support in this area to the other University of California campuses and to the general community at large.
Often the terms "Asian" and "Asian American" cause confusion in relation to library collections. Traditionally, East Asian libraries and collections focus on East Asian countries such as China, Japan, and Korea, rather than on the distinct experiences of these groups in America or in other countries. Historically, these collections have developed as part of Area Studies disciplines which became increasingly common in the United States following World War II. In contrast, the term "Asian American" was coined by historian Yuji Ichioka in the late-1960s in conjunction with the Asian American social movement. It emerged to describe a new pan-ethnic identity formed out of solidarity amongst Asians in the United States, primarily Filipino, Chinese, and Japanese communities.
The term "Asian American" emerged as a political identity, rooted in movements like the Third World Liberation Front. Today, however, the term "Asian American" is often used as a general demographic marker. The boundaries of Asia have historically been defined by historical and geopolitical forces. The term "Asian," and thus "Asian Americans," is not static and encompasses a large number of national and ethnic identities including but not limited to the following groups: Bangladeshi, Bhutanese, Burmese, Cambodian, Chinese, Hmong, Indonesian, Filipino, Japanese, Korean, Laotian, Malaysian, Mien, Mongolian, Nepalese, Pakistani, Sri Lankan, Thai, Tibetan, and Vietnamese Americans.

Asian American Studies Vertical Files
The Asian American Studies vertical files contain two major collections: the Asian American Studies Organizations/Newsletters and the Asian American Studies Newsclippings collections.
The Asian American Studies Organizations/Newsletters are an extensive collection of flyers, newsletters, meeting minutes, booklets, pamphlets, and other materials produced by over 1,000 Asian American community organizations. These files are library use only and can be accessed by visiting the Ethnic Studies Library. The Asian American Studies Newsclippings contains newsclippings related to Asian American history, politics, arts, culture, and community.
Please see the following documents for more information on these collections:
Asian American Studies Archives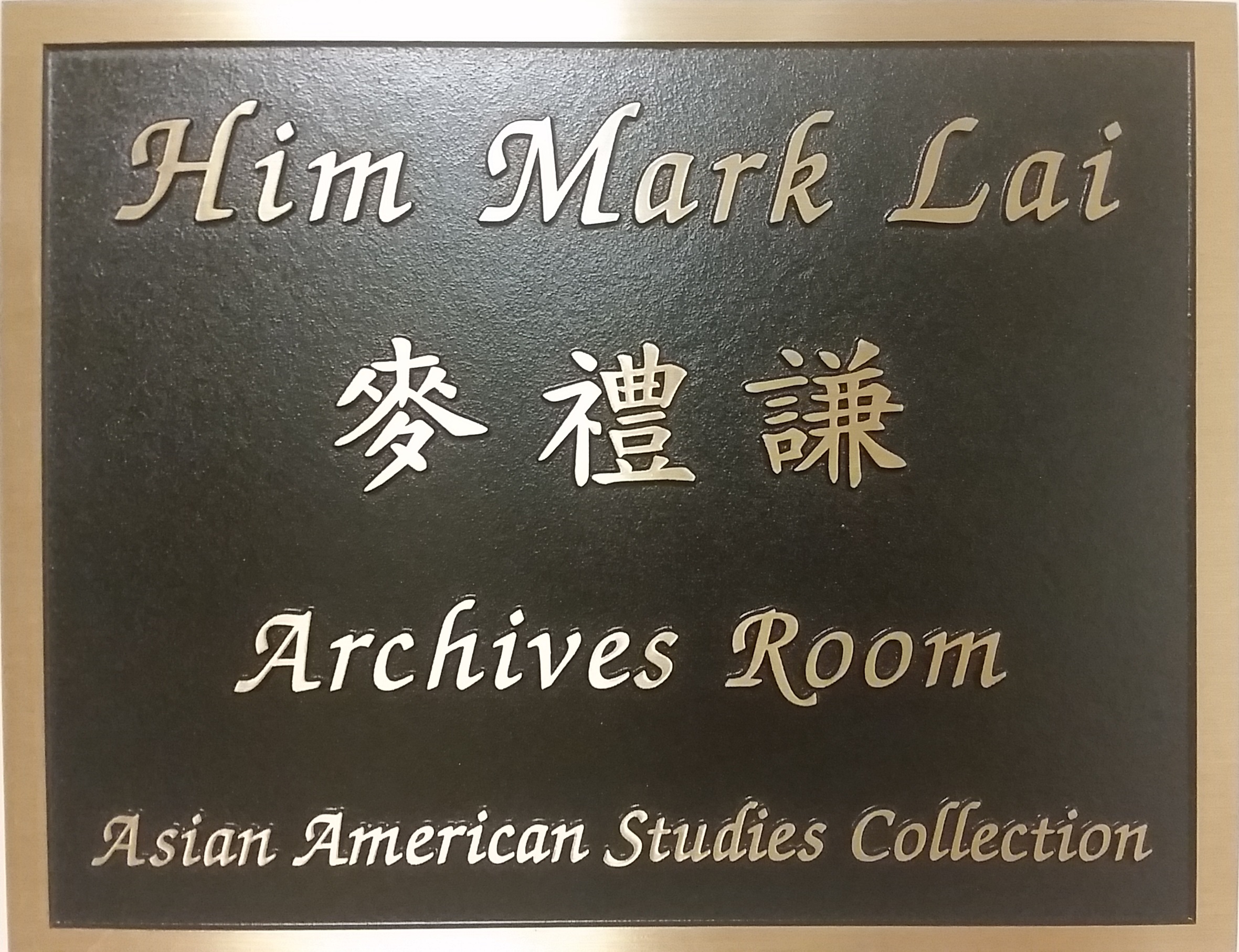 The mission of the Asian American Archives at the Ethnic Studies Library is primarily to support research conducted by faculty and students in the Ethnic Studies Department as well as to increase public knowledge of Asian American history and life by making accessible our rich historical resources to the campus community and the general public. The Archives contain manuscripts, diaries, correspondence, newsletters, photographs and other primary source materials documenting Asian American communities in the Bay Area, nationally, and internationally. The Archives contains particularly strong archival collections on Chinese Americans and Chinese Overseas including the largest collection of biographies on prominent people in different fields and on active community members. There are over one hundred unique archival collections including, to name just a few, the collection of Mr. Him Mark Lai and Mr. Yuk Ow, both renowned Chinese American historian and the documents of the Chinese Empire Reform Association (it is also called Baohuang Hui) on the political activities of Chinese Overseas, particularly the activities of Kang You-wei, Liang Qi-chao and Xu Qin.
In addition to continuing to build the Chinese American and Chinese Overseas archives, the Asian American Archives is pursuing archival documentation on topics including but not limited to: South Asian Americans, Southeast Asian Americans, LGBTQ Asian Americans, Asian American activism and radicalism, Asian American student organizations, and the history of Asian American Studies. For more information on our holdings or to discuss donating archival materials, please contact Asian American Studies Library Sine Hwang Jensen at shj [at] berkeley [dot] edu.
Asian American Archival Collections
Below is information on some of the Asian American Studies archival collections. This is not a comprehensive list of our holdings.
Click here to download the Asian American Archives Summary which includes the call numbers, title, and dates of our processed and available collections.
The AAS Collection has the following finding aids in the Online Archive of California:
The AAS Collection has the following finding aids in an alternative format to that of the OAC:
Exhibits and Virtual Collections
Documents Relating to the International Hotel in San Francisco:
Related Links