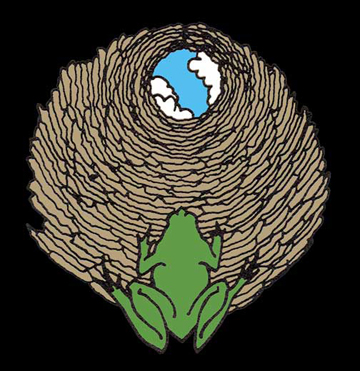 "Frog in the Well" graphic by H.K. Yuen
Listen to the digitized recordings of the H.K. Yuen Social Movement Archive online!
Inventory and Preservation Project

The acquisition of the H.K. Yuen Social Movement Archive, ca. 1963-1982, stands as the largest single donation ever received by the Ethnic Studies Library and it is a shared collection with the Bancroft Library. The estimated 30,000 hours of audio recordings and associated gray literature accompanying it is the most complete audio resource for social movement history in the San Francisco Bay area.
The Yuen audio archive preserves the original audiotapes of the regions broadcast history from the early 1960s through the early 1980s. A distinguishing feature of the Yuen collection is that an estimated 5- 10% of the total recordings were of events, which were never broadcast. Although Yuen recorded numerous tapes on many stories from several broadcasting stations, sometimes only a single archival tape is still extent to cover those stories, if any. Yuen documented local events, many of which are in retrospect of historic importance, in multiple audio entries; he took the unique opportunity to record history as it happened. Consequently, the audio collection is a virtually untapped reservoir of the verbal documentation of many historic events, which took place in the Bay Area over several decades of the 20th century. Unfortunately, due to their inherent fragility and deterioration, many of the audiotapes -- especially the early plastic based reel-to-reel tapes which constitute the earliest part of the collection— will not only remain untapped but also totally lost to researchers, scholars, and the public if they are not immediately surveyed, identified by recording speed and by format, relocated to controlled climate conditions and in some instances digitized.

To preserve a collection of this magnitude, it is essential to employ a flexible approach to describe and preserve audio of enduring historical value and invest minimal time in the repetitive and mainstream news issues as opposed to local issues of national importance.  Using a work-plan model employed by similar "audio projects" at the Bancroft and other repositories, the goals of the present project are:
Stabilize tapes by completing the rehousing and transferring to appropriate storage environments.
Assess research value within the audio files, identifying highest priority categories of materials for both enhance description and for digital preservation reformatting.
Box and carton the estimated 30,000 hours of reel to reel and cassette audio tape.
Create brief database entries for tapes at the container level.
Create finding aid, consisting of container lists for audiotapes, exported from the project database.
Preservation is the foremost goal, and the work plan focuses almost exclusively on preservation assessment, archival housing, and transfer of the most vulnerable tapes to the most appropriate storage climate available. Only with support, can we complete a timely survey of the tape collection, address immediate deterioration and long-term preservation issues, and provide access to the collection by researchers.
To date, over 450 recordings have been digitized through a partnership with California Revelaed and a CLIR Recordings at Risk grant and added to the Internet Archive.
In 2017, The Ethnic Studies Library was awarded a CLIR Recordings at Risk grant of $29,000 to digitize an additional several hundred tapes, prioritizing unique content, and make them available online as well as improve the descriptive metadata. This project was completed in November 2019. 
For more information about the collection, visit H.K. Yuen Social Movement Archive.
     
TO DATE THIS COLLECTION IS NOT AVAILABLE FOR USE BY RESEARCHERS (BEYOND INTERNET ARCHIVE FILES) AND WORK CONTINUES.
EQUIPMENT AND FUNDING IS NEEDED!  PLEASE DONATE.


    Sine Hwang Jensen, Comparative Ethnic Studies Librarian

    Special Thanks to:  The H.K. Yuen Family
    John Barry - Previous UCB Comparative Ethnic Studies Librarian
    Lincoln Cushing – UCB Librarian
    Joshua Bloom – UCB Graduate Researcher
    Erica Flener – UCB Graduate Researcher
    Tessa Ridgeway – UCB Undergraduate
    Garkay Wong – UCB Undergraduate
    Israel Mendoza – UCB Undergraduate
    Roxanne Bantay – UCB Undergraduate
    Carissa Purnell – SJSU/SLIS: Library Intern
    Jason Chang – UCB Graduate Researcher
    John Turok – UCB Graduate Researcher

    ===========================================================


The sample audio files below have not been remastered and are provided here as examples of collection content; only audio levels have been adjusted.

These are for Educational use only.  Copyright is retained. University of California, Berkeley.

Track 1: Third World Liberation Front Convocation. (0:57) "Power to the people"…an introduction by Jaime Solis, February, 1969.

Track 2: Jim Nabors. (5:18) "The system is anti-you because you're acting like a nigger" … a speech to students by a rank and file member of the Huey P. Newton Defense Committee, November, 1967.  Rally Recorded Live.

Track 3: Bobby Seale. (9:56) "We will not stoop to the level of the Klu Klux Klansman that hates and will murder a person because of the color of their skin"…a speech on anti-racism, the politics of the Black Panther Party, and the Peace and Freedom Party ticket, May, 1968.  Rally recorded live.

Track 4: Bob Avakian. (4:01) "They pretended that the thing that upset them about Black Power was that it was racist" … a speech on the repression of the Black Panther Party, May, 1968.  Rally recorded Live.

Track 6: Noam Chomsky. (2:38) "The only thing that can put an end to this butchery is a massive and unceasing outcry of protest" … speech on the need for political struggle against the Vietnam War, January, 1967.  Rally recorded live.

Track 7: Bettina Aptheker. (6:31) "It is very interesting going to jail being 6 months pregnant"… links Free Speech Movement and Anti-war protests, June, 1967.  Rally recorded live.

Track 8: Mario Savio. (1:37) "Castro loving communists" … a critique of Clark Kerr red baiting, February, 1967.  Rally recorded live.

Track 9: Peter Camejo. (5:51) "A CIA trained dog" … why the CIA should be barred from campus and why this is not a violation of free speech. November, 1967. Rally recorded live.

Track 11: Barbara Arthur. (3:21) "No White man has ever been executed for raping a Black woman" … speech on lynching, Denzil Dowell, and the Black Panther Party, July, 1967.  Rally recorded live.

Track 12: James Farmer. (5:19) "Every company was looking for its highly qualified, highly skilled, educated, highly personable young Black man" … the Director of the Congress on Racial Equality (CORE) on Black Power and the limitations of Civil Rights, July, 1967.  Rally recorded live.

Track 13: Elaine Brown. (1:16) "Two slaves are both oppressed" … talk on race and women's oppression on International Women's Day, March, 1973. Symposium recorded live.

Track 14: Cesar Chavez. (5:21) "We don't want to be alienated from the poor" … defending his endorsement of Robert Kennedy for President, May, 1968. Rally recorded live.

Track 16: H.K. Yuen. (1:53) "Third World Liberation Front strike recorded live and narrated by H.K. Yuen on the U.C. Berkeley campus, January, 1969.  Recorded live.