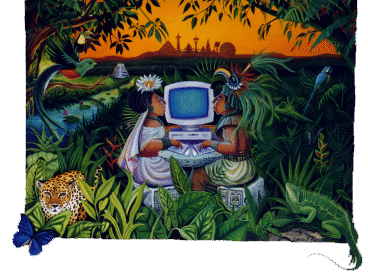 The first compilation of the bold and articulate insights of the only Chicano husband and wife team of newspaper columnists, this book is a chronicle of the Chicano/Latino experience in the 1990s. Against the backdrop of an America that is only beginning to pay attention to the voices and yearnings of a minority group that will not go away, Patrisia Gonzales and Roberto Rodrguez write a weekly column, giving their own views of the issues of the day. Sometimes their vision is considered too radical and few newspaper editors will carry their column. At times an editor may decide to cut the length of the column. In any case, their voice, often poignant, often outraged,sometimes humorous, but always powerful, has been muffled far too often.
Whether exposing governmental abuses of the census or congressional bills designed to take away the rights of immigrants or showing us how Latino actors are trapped in Hollywood stereotypes, Gonzales and Rodrguez never pull any punches. Nor do they report anything that they have not completely researched and verified.
GONZALES/RODRIGUEZ: UNCUT AND UNCENSORED contains fifty-two columns as the authors intended them to be read. They are excellent for classroom use.
ISBN: 0-918520-22-3
-------$20.00 plus $2.00 shipping and handling PREPAID--------
More about the authors:
PATRISIA GONZALES is a Freedom Forum professional-in- residence at the Department of Communication and Journalism at the University of New Mexico. She is completing a book on Mexico, "The Mud People: Anonymous Heroes of Mexico's Emerging Human Rights Movement."
ROBERTO RODRIGUEZ began his long journalistic/writing career at La Gente newspaper at UCLA in 1972. Since 1990 he has been a senior writer with Black Issues in Higher Education. His forthcoming book, Justice: A Question of Race, combines two books (Assault With a Deadly Weapon and On the Wrong Side of the Law) under one title and will be published by Bilingual Press in May of 1997.
Gonzales and Rodriguez write a syndicated column, Latino Spectrum, distributed by Chronicle Features in San Francisco. They are based in Albuquerque, New Mexico.